HPP Newsletter - November 2022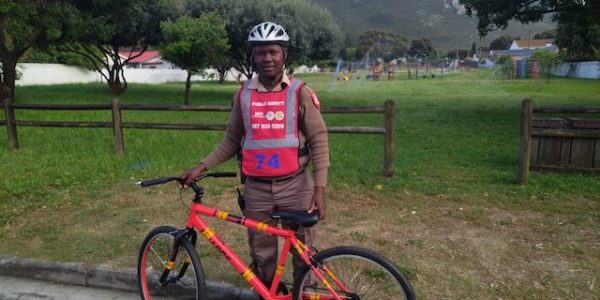 Dear HSRA Property Owner,
During the past month
HPP introduced a bicycle patrol in suburbs on days when waste is being collected.
A night patrol was started over weekends in the CBD's public spaces.
Cleansing Services along the Cliff Path and Hoy's Koppie now operate Monday to Saturday as well as public holidays.
Dog waste left along the Cliff Path is being removed three times per week.
A review of our policies and operating procedures related to the use of surveillance cameras has commenced.
We started a campaign to improve awareness of cameras as a surveillance tool
The draft strategic priorities identified by a group of 18 stakeholders have received further comment and have been accepted – refer our October newsletter.
Some residents from Northcliff engaged with us in depth to understand aspects of our safety policy and view our control centre.
We addressed the Westcliff Residents Association AGM and were able to exchange views of safety and cleansing matters.
Service Provider Contract Extension
Following the HPP Annual 2022 Satisfaction Survey, conducted in June 2022, we have responded to ratepayers requests to increase visibility of patrols, address cleansing on the Cliff Path and the expansion of the HPP camera surveillance network.
The renegotiated contracts with our main service providers (Fidelity ADT, Iphupha Cleansing Services, and Whale Coast Computers) came into effect on 1 November and include:
The continued provision of 24/7 CCTV surveillance monitors.
Foot patrollers along the coastal path and in the CBD.
Three 24-hour specialised response unit vehicles.
A new bike patrol, consisting of up to two guards on waste collection days.
Up to four CBD night guards to enhance the safety of, amongst others, people frequenting restaurants.
The appointment of an additional person in our Control Room to monitor camera surveillance activities more effectively.
Added cleansing services along the Cliff Path and Hoy's Kopple from Monday to Saturday as well as public holidays.
The removal of dog waste left along the Cliff Path three times per week.
In addition to the above, Whale Coast Computers (WCC), our preferred equipment supplier, installer and maintenance service provider for the HPP camera surveillance network, have agreed to a fixed rate to maintain the camera equipment and the backhaul that traffics the video feeds to the control room on a quarterly basis. WCC also offer a 24|7 IT and video analytics software support service to the HPP Control Centre. With video analytics, the system can automatically alert operators of key events, specific actions or movements for reaction.
The renewed contracts with our service suppliers are under- pinned by flexibility in our relationships to renegotiate exact costing parameters ahead of the start of each financial year.
Readers are reminded that all the above is offered by HPP as supplementary services to those provided by the Overstrand Municipality.
HPP Camera Surveillance Network
As part of a consolidated approach to crime prevention, surveillance cameras support other forms of public safety such as visible patrols, by-law enforcement, social educational programmes, neighbourhood watch groups, and enhancing urban design to reduce crime.
HPP has expanded the camera surveillance network to cover strategic points and crime hotspots across the Hermanus SRA. Camera surveillance is an effective and versatile tool to help combat criminal activity and anti-social behaviour by acting as a deterrent, improving detection and response to incidents and providing evidence. 
Over the few years, HPP has grown its camera network from just 19 cameras to 130 cameras throughout the HSRA. These cameras are a mix of static (bullets) cameras, PTZ (Pan Tilt Zoom) cameras and LPR (License Plate Recognition) cameras. Different types of cameras serve different purposes and the funders of neighbourhood cameras need to be aware of what they are buying. We mainly make use of three types of cameras:
PTZ cameras have a large field of view, can zoom to see objects many meters away and can move a full 360 degrees. PTZ cameras can be rotated and used by our operators to track people or vehicles across a wide area. PTZ cameras however come at a high cost, have a shorter lifespan and cannot record areas the camera isn't specifically focused on.
Static or a fixed camera functions in a static position facing a specific area. This feature provides assurance that the area, within the predetermined frame, is continually surveyed. Static cameras are enabled with artificial intelligence functionality and can detect movement of vehicles and people and alert the control room for reaction. Static cameras however cannot be controlled and footage just outside of the fixed frame cannot be captured.
License Place Recognition (LPR) cameras are static cameras with the capability of reading vehicle license plates. HPP use a LPR software that generates alerts when suspicious vehicles enter the HSRA, enabling stakeholders to act quickly should the vehicle be involved in a criminal incident.
Many of the HPP cameras also have infrared capabilities. Infrared provides images at night, helping to detect people or vehicles when there is little or no light. Images are only in black and white, which lowers the capabilities of viewing the area and achieving positive identification.   
While every effort has been made in the layout of the CCTV system to give it maximum effectiveness, it is not possible to guarantee that it will detect every incident that takes place in the HSRA.
Risk and Security Assessment
The efficiency and effectiveness of all HPP's safety interventions is a strategic priority. A review of the HPP camera surveillance network operation has been flagged as a top priority. We are particularly concerned as to whether HPP can afford the financial viability of our present approach.
We therefor invited the Fidelity Services Group's  Solution Specialist division to do an assessment (at no cost to HPP) of the CCTV systems and operational centre. Please note that Fidelity Services is not involved in the design of our CCTV systems as well as the supply of equipment. The assessment was held from 15 to 18 November, a Risk Assessor, CCTV Network Technical Specialist and two security system advisors conducted the review. Ten stakeholders engaged in implementing camera projects in the suburbs of the HSRA were invited to participate in the initial briefing.
The final report and recommendations are expected in the first week of December, however, the Risk Assessor has shared some preliminary findings. The initial recommendations include:
Guidelines are required to ensure the structured future expansion of our camera network
Upgrading the online incident reporting in our control room
Standardising software analytics to proactively detect incidents
Specifying operational objectives for each camera site
We will keep you apprised of the recommendations of the report as well as the enhancements we will be making to the HPP camera surveillance network.
Cleansing
Since the new cleansing contract has come into force, cleansing of the Cliff Path of dog excrement has been monitored. It is evident that the Eastern side between Grotto and Siever's Point requires regular cleaning of dog excrement. We appeal to dog owners to please adhere to the bylaws and clean up after your dogs.
Hoy's Koppie, particularly the bushy section next to the parking area opposite Checkers, currently requires continuous cleansing. There appears to be illegal dumping of domestic waste. Please report illegally dumped waste to the Municipality.
Please report contraventions of by-laws to the Municipality's Law Enforcement on 028 312 2400. Alternatively send an email to enquiries@overstrand.gov.za.
Festive Season Plan
HPP plays an integral part in the Festive Season Plan orchestrated amongst local law enforcement bodies. As in previous years, HPP offer an extended service from 15 December to 15 January to enhance public safety during the festive season. This year up to nine HPP foot patrol officers will commence patrols on the Cliff Path from 05:30 until 20:00 each day. Over the weekends, up to four night guards will patrol the CBD overnight and can be identified by their red bibs.
Best wishes for the festive season
On behalf of the HPP Board and our Executive Officer, I wish you a safe and blessed festive season.
Please be aware that the next newsletter will be published at the end of January. 
As always, we urge you to be vigilant and aware.
Jerry van Niekerk
HPP Chair