HPP Newsletter - January 2023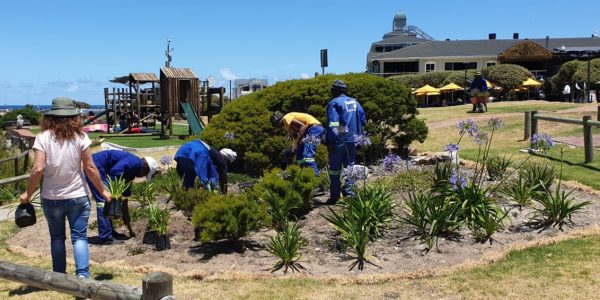 Dear Hermanus Special Rating Area (HSRA) Property Owner,
The HPP Board Members and I wish you and your loved ones a safe, healthy and happy new year!
During December and January
HPP successfully implemented its festive season operational plan.
Agreed with the Overstrand Municipality on the process to be followed by working together and ensuring maximum value add by HPP to HRSA property owners.
Strengthened our ties with neighbouring Special Rating Areas in Kleinmond and Onrus | Vermont to address issues of common interest.
Formulated recommendations to act on the Fidelity Services Group's assessment of HPP's camera and surveillance operation.
Festive Season
We are pleased to report that over the festive season an unusually low level of criminal incidents was reported within the HSRA. Please see the HPP Performance Report for December 2022. On the other hand, our crime prevention interventions were noticeably higher than normal.  Our conclusion is that a contributory factor to the lower crime rate may be the timeous reporting of public disorder or suspicious behaviour. We, therefore, pay tribute to members of the public, neighbourhood watch groups, HPP camera operators and patrollers, who helped the various security agencies to prevent possible crimes being committed.
In addition, HPP and the law enforcement bodies all ensured that there was a high level of visibility across the HSRA during the festive period. This factor, too, is likely to have led to lower incidents of crime. We are especially thankful to the community for reporting incidents timeously. Please keep on doing so. HPP's Emergency Number is 087 550 5295.
Crime at Bank Auto Teller Machines
As part of our endeavours to decrease crime levels in the central business district, Fransien Koegelenberg (HPP Director) and Marcia Bown (HPP Executive Officer) met with FNB Management with an appeal to address the high incidence of fraud and robbery at their auto teller machine. FNB immediately agreed to place a security guard on a 24/7 basis at their ATM and no related crime was reported during the festive season. FNB have now committed to continue placing a guard at the machine from 18:00 to 06:00. We thank FNB for their quick response. HPP have asked Capitec to do the same.
Higher levels of crime in January
Regrettably, January has seen an increase in crime trends, some of which may be due to the higher levels of load-shedding, which makes criminal activity so much easier to commit at night. We remind residents to be vigilant of your surroundings and secure your property. If you are a victim of crime, please report it to the South African Police Service (SAPS) as soon as possible. If you do not wish to have a case opened with SAPS, you are still able to report the incident to HPP. This will help improve statistical representation of crime levels in the Hermanus SRA.
Risk and Security Assessment
The efficiency and effectiveness of all HPP's safety interventions is a strategic priority. A review of the HPP camera surveillance network operation was flagged as a top priority in October and an assessment by an ADT Solution Specialist was undertaken in November 2022.
The report and recommendations of the specialist were received at the end of December. Going forward, HPP's draft implementation plans include actions to:
Develop guidelines to ensure the structured future expansion of our camera network;
Specify operational objectives for each new camera site;
Ensure the financial soundness of our camera network and its maintenance;
Upgrade the online incident reporting in our control room and increasing intelligence gathering;
Standardise software analytics and surveillance equipment to proactively detect incidents.
The final plans will be determined by 31 January and communicated to relevant stakeholders.
Operational Activities – 2022 in Brief Review
HPP underwent several changes in 2022. To ensure a safer and cleaner environment, the camera network was expanded exponentially, and increased staff were contracted. In addition, a new Board was appointed in September and HPP's strategic priorities were co-created with the help of a wide range of stakeholders. 
HPP now employ 51 staff members, operate three armed vehicles and monitor a camera network of over 130 CCTV cameras.
The team consists of the Executive Officer employed by HPP. On the ground, ADT management oversee the work of nine camera controllers, nine special response officers, three foot supervisors, 18 foot patrol officers, and three bike patrol officers. Cleansing activities are implemented by Iphupha's Cleansing Manager and five cleansing staff.
The HPP Control Room, patrol vehicles and CBD foot patrollers operate 24|7, with foot patrols covering the Cliff Path and Hoy's Koppie 7 days a week, 12 hours a day. HPP bike patrols operate three days per week and cleansing services six days per week.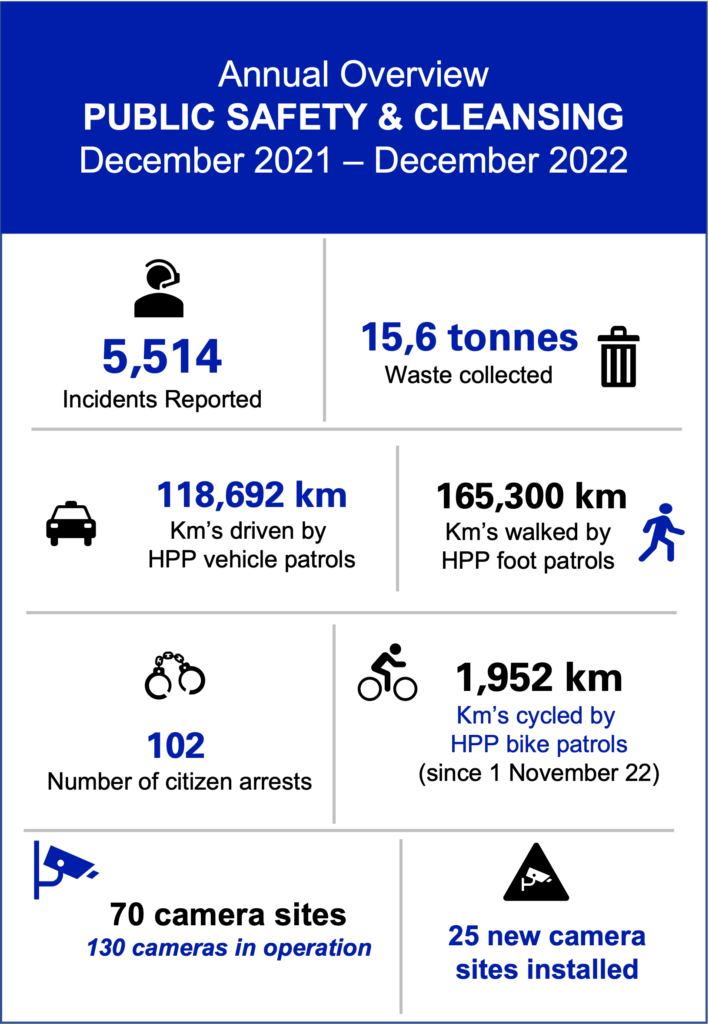 HPP has also contributed to the upliftment of youth in the area through a leadership holiday programme. In addition, we worked with the Overstrand Municipality to clear alien plants and plant native plants at prime tourist nodes and participated in several working groups to improve the CBD and surrounds.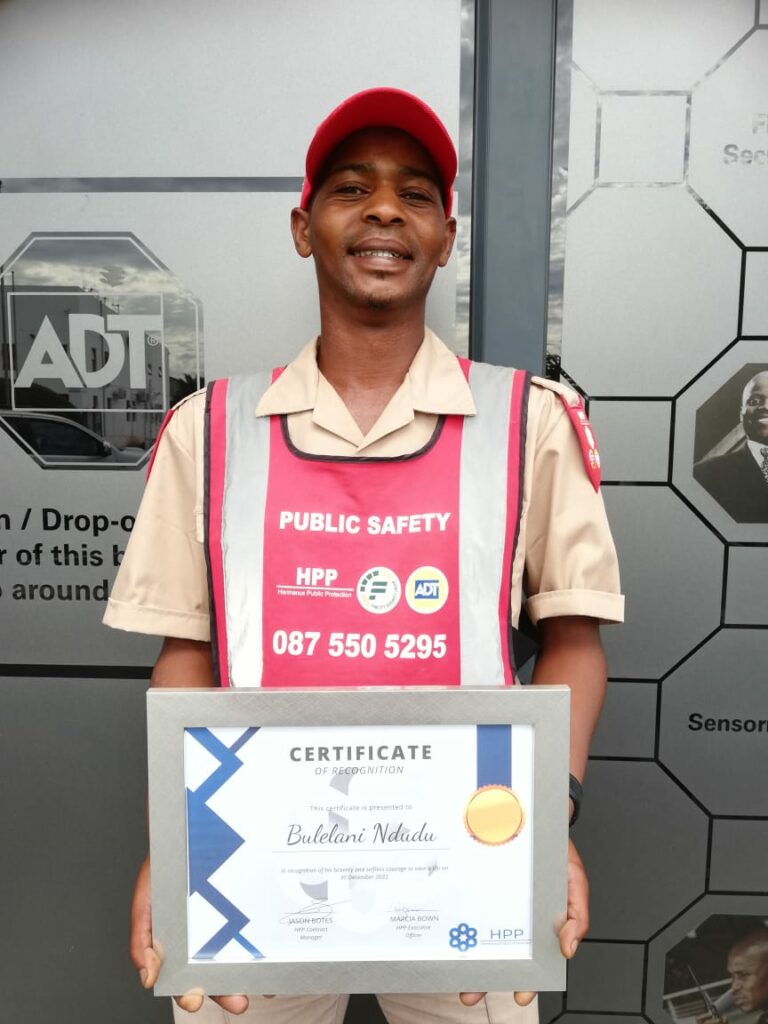 Good news story
On the 30th of December, HPP Officer Bulelani Ndudu, spotted a person floating in the rough sea near the new Harbour and alerted his colleagues. 
He then selflessly stripped off his uniform, dived into the sea and got the person to waiting bystanders, who managed to get her out of the sea and onto the rocks. Thankfully, she was still breathing and was rushed to hospital.
Bulelani received a reward as well as a certificate of recognition for his bravery. HPP are incredibly grateful and proud to have officers who are willing to go above and beyond to protect the residents of our town.