HPP Newsletter - February 2023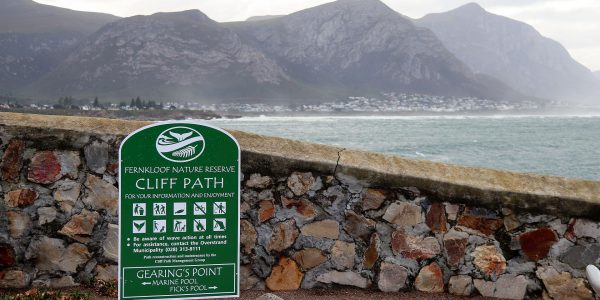 Dear Hermanus Special Ratings Area (HSRA) Property Owner,
During February
The recommendations arising from the Risk and Security Assessment (refer our January newsletter), as approved by the HPP Board, commenced implementation.
HPP Safety Director and the Executive Officer attended an Overstrand joint crime prevention strategy session with law enforcement role-players to address crime hot spots and current crime trends.
The Chair and Executive Officer met with stakeholders from Eastcliff, Westcliff, Voëlklip and Northcliff to address safety concerns in their suburbs.
On Valentine's Day, Westcliff Residents Association held a well-attended community picnic. HPP Executive Officer, two foot patrol officers and the response vehicle joined the initiative to meet the residents of the suburb.
HPP contributed to the CBD Cluster meeting regarding public safety in the CBD, which was also attended by SAPS Hermanus Station Commander, Colonel Nosilela, who presented crime patterns for the area.
HPP joined the Hermanus Homelessness Working Group, a platform aimed at addressing homelessness in the area. A strategy is currently being drafted.
Risk and Security Assessment
The efficiency and effectiveness of all HPP's safety interventions is a strategic priority. A review of the HPP camera surveillance network operation was flagged as a top priority in October and an assessment by a Fidelity-ADT Solution Specialist was undertaken in November 2022.
The report and recommendations of the specialist were received at the end of December.
The recommendations included were to:
Develop guidelines to ensure the structured future expansion of our camera network;
Specify operational objectives for each new camera site;
Ensure the financial soundness of our camera network and its maintenance;
Upgrade the online incident reporting in our control room and increase intelligence gathering;
Standardise software analytics and surveillance equipment to proactively detect incidents.
The HPP Board has approved a range of actions which include the following:
Policies: guidelines have been outlined to ensure structured expansion that includes standardisation of camera installations and equipment as well as Neighbourhood Projects. Operational objectives should be specified for each camera.
Resourcing: appoint a Surveillance and Field Supervisor, expand the role of the HPP Assistant Manager to assist with vagrancy issues and assign Control Shift Supervisors.
Electronic Reporting and Intelligence System: implement an electronic incident reporting solution for intelligence gathering and dissemination. Standardise software analytics for improved incident detection.
ANPR Cameras: co-ordinate with law enforcement on placement of license plate recognition cameras that link to NATIS for effective response to suspicious vehicles.
Awareness campaigns: place warning signage at strategic points and on camera sites. Raise public safety awareness with residents and businesses.
The implementation of the plan is underway with the aim of completing all tasks by the end of March. These exciting step-changes will see a drive towards efficiency and effectiveness in our service delivery, as well as intelligence driven decision making for future camera expansions and deployment of resources.
Strategic Increased Surveillance Enhances Crime Prevention
The roll out of cameras across the suburbs over the past 18 months has proven to be very successful and is producing good results. There has been a noted increase in crime prevention incidents in the HSRA.
Crime prevention is any intervention made by HPP to avert a possible crime or by-law transgression being committed. Incidents are reported by Members of the Public (including Neighbourhood Watch groups), HPP CCTV Operators, Specialised Response Vehicles and Patrol Officers.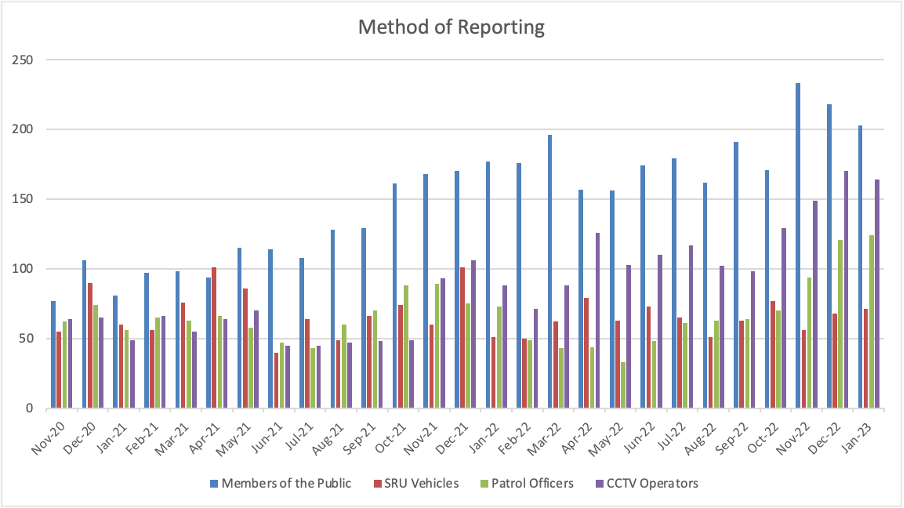 Figure 1: Reports since HSRA inception – Incident Reporting Methods – increased CCTV coverage driving increased CCTV Operator reporting.
There has been a noted increase in the CCTV Operators detecting suspicious behaviour and responding accordingly by activating our response teams on the ground. These interventions may include addressing unruly behaviour before it escalates or notifying residents of points of vulnerability such as an open garage door or unlocked vehicle.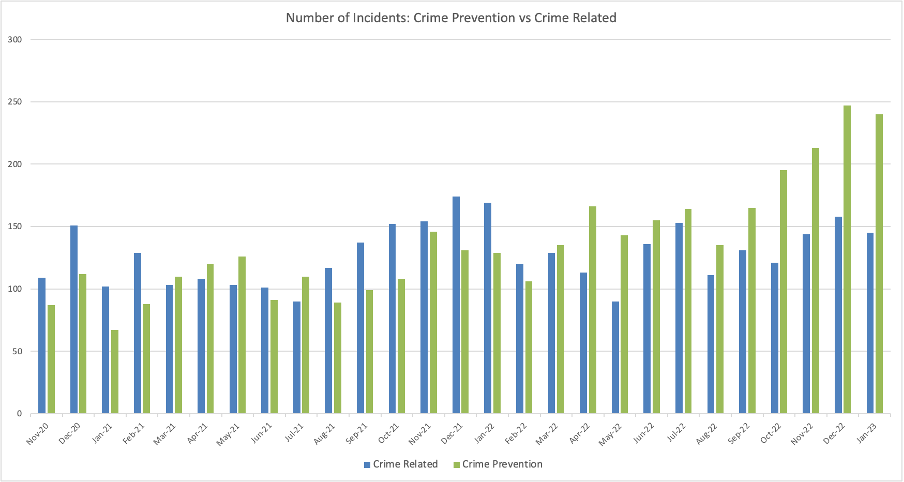 Figure 2:  Number of Incidents: Crime Related vs Crime Prevention – increased Crime Prevention likely to be driven by increased camera surveillance.
Together with stakeholders from suburbs, HPP is currently re-evaluating the HSRA to ensure that the area is covered adequately with strategic camera placements; an ongoing requirement to adapt to crime trends. The HPP policy is to ensure that suburb entrances and exits, perimeters, major intersections, and crime hot spots are monitored to best effect.
Cliff Path Cleansing
We are privileged to live in a town that can boast a cliff path which hugs the coastline and offers 12km of magnificent indigenous scenery to strollers, hikers and runners.
IPHUPHA Cleansing Services is the service provider which is subcontracted to remove litter from the path and surrounding edges six days a week from the New Harbour to Grotto Beach apart from the parking areas at Gearings Point, Bientangs Cave and Fick's Pool. They also cover Hoy's Koppie and Bekker's Park.
The bagged litter is then placed at the bins in the parking areas for the Municipality to collect. The team works on certain Public Holidays and a dedicated team member works three days per week only collecting dog poop.
Some interesting observations from the cleaning team.
There is more activity on the eastern side of the path from Grotto Beach to Marine Pool, with more dogs running freely off leash than under control of the owners, more dog poop and more litter.
Less busy on the western side from Fick's Pool to the New Harbour.
Litter areas are around Fick's Pool and boardwalk opposite Swallow Park.
Generally, the path seems to be used more frequently during the mornings.
The Cliff Path is part of the Fernkloof Nature Reserve, and we encourage all residents and visitors to respect the ecosystem by disposing of their trash in the bins provided and picking up their dog's poop, which is detrimental to fynbos.
HPP Officer's Generous Gesture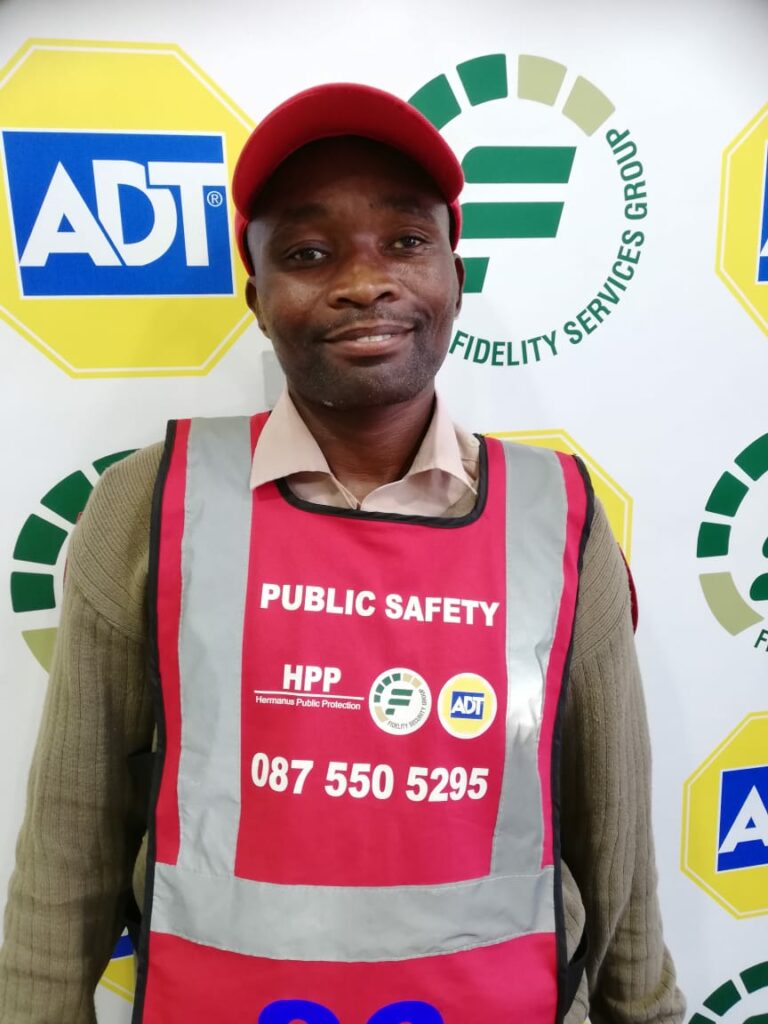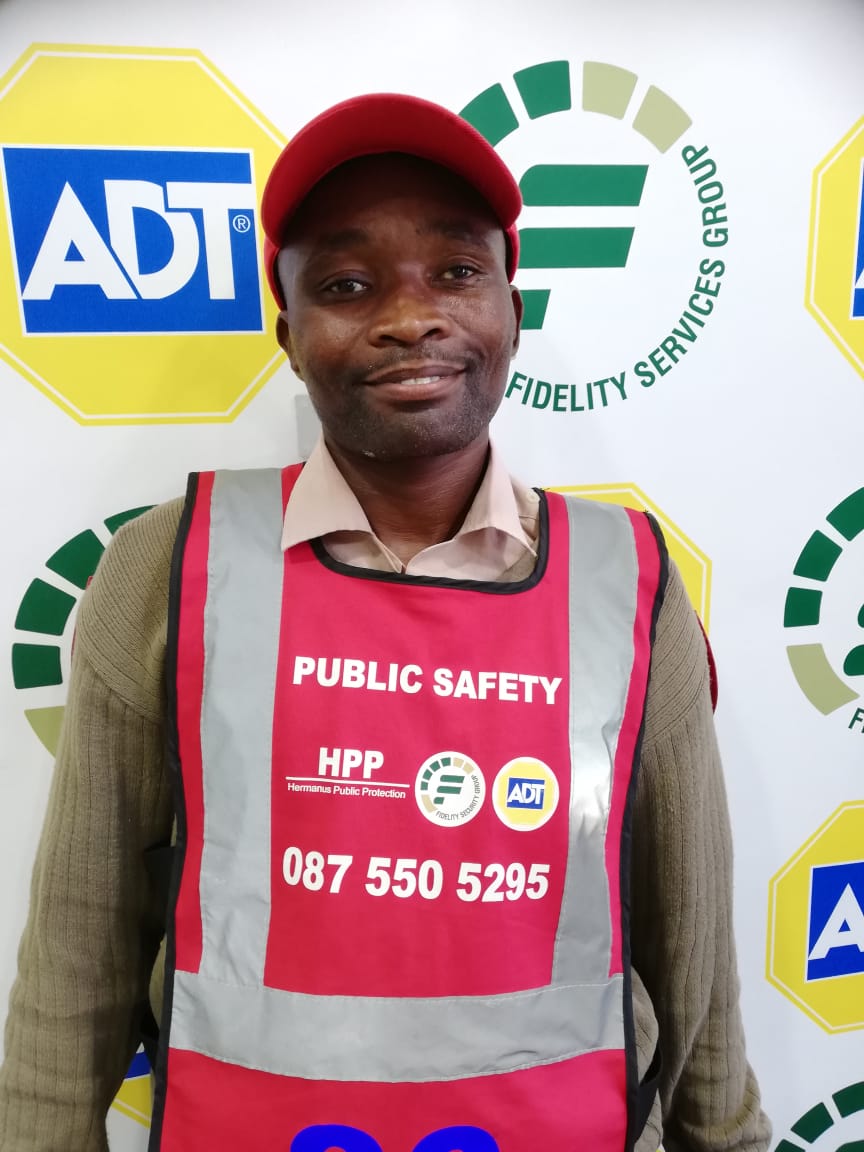 Figure 3: Officer Anovuyo Matshona
During an unexpected rainfall and dip in temperature last week, Officer Matshona, a CBD foot patroller noticed a drenched homeless person trying to shelter from the wind and rain with little success.
The Officer, in a show of compassion, went into a local thrift shop and purchased the man a jumper and beanie. Officer Matshona handed over the clothing items to a very grateful recipient who happily pulled on the items to warm up. (Officer Matshona has been compensated accordingly.)
We are heartened by the generosity and humanity of Officer Matshona, one of many acts of kindness an HPP officer has extended in recent months.