HPP Newsletter - April 2023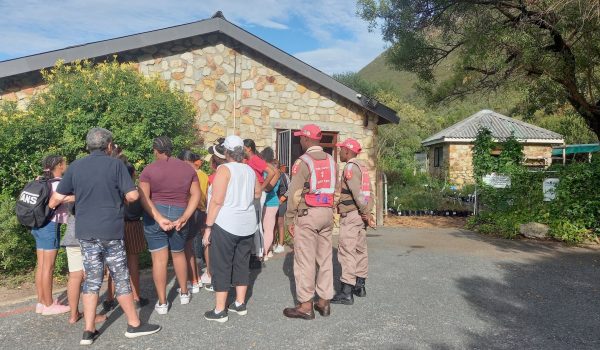 HPP Public Safety Officers supporting the Sustainable Futures Trust Holiday Programme in April at Fernkloof Nature Reserve
Dear Hermanus Special Ratings Area (HSRA) Property Owner,
"Without reflection, we go blindly on our way, creating more unintended consequences, and failing to achieve anything useful" (Margaret J. Wheatley)
On the 17th and 18th of October last year, 18 stakeholders gathered to frame HPP's strategic priorities for the next two to three years. I remain indebted to the folk who assisted in doing this work. This newsletter provides a good opportunity to briefly reflect on the progress we have made over the past six months. In many cases we have done well and in others we are lagging on what we planned. We have also learned many important lessons in the process.
In summary, our priorities have been to deliver value for money to ratepayers, build strong relationships with stakeholders, communicate with our members, contribute to the revitalisation of the Central Business District (CBD), prepare members to manage safety, motivate and plan for the continuation of the HSRA beyond June 2025, promote change and support organisations to drive initiatives related to issues that threaten the well-being of Hermanus, but fall outside our mandate, and harness the rich reservoir of human resources in Hermanus to co-create and deliver on these priorities. Please see the HPP Newsletter for October 2022.
I am pleased to report that we are making good progress on these priorities but am deeply aware that we have only started the journey and that much work lies ahead of us. Increasing levels of homelessness, vagrancy, poverty, unemployment and indeed crime make our task so much more challenging.
In brief, delivery on our strategic priorities over the last six months is as follows:
Deliver Services that offer Value for Money.
The HPP has expanded its services to include a bicycle patrol in suburbs during waste collection days, a daily night patrol in the public spaces of the CBD, and cleansing services along the Cliff Path and Hoy's Koppie, operating six days a week, including public holidays. Additionally, the HPP is now responsible for removing dog waste from the path.
To ensure effectiveness and efficiency, an assessment of the CCTV systems and operational centre was held in November 2022 by Fidelity Services Group's Solution Specialist division. A Risk Assessor, CCTV Specialist and two security system advisors conducted the review. Ten HSRA stakeholders were invited to participate.
The implementation plans to provide a structured surveillance expansion that includes standardization of camera installations, software analytics, electronic incident reporting, and awareness campaigns are now being concluded. Importantly, Mr Juan Havenga has been appointed by Fidelity-ADT (our safety service provider) to be responsible for the quick and accurate surveillance and intelligence output.
Build Strong Relationships with our stakeholders.
We have made a concerted effort to engage with HPP stakeholders which includes ratepayers, HPP NPC members, the Overstrand Municipality (OM), the business community, the South African Police Services (SAPS), the neighbourhood watch groups (NWG's) and neighbouring Special Rating Areas (SRA's).
I am thrilled with the input we have received from ratepayers from Eastcliff, Kwaaiwater, Northcliff, Voëlklip, and Westcliff to address safety concerns in their respective suburbs. In addition, we have collaborated with the CBD Cluster (which includes the Hermanus Business Chamber, Whale Coast Business and Community Forum, and various business representatives) with an aim to further invigorate the CBD. We have also been engaging with various neighbourhood watch groups to ensure their commitment to an agreed code of conduct in the field.
Our engagement with Overstrand Municipal office bearers and officials, the SAPS and other security related bodies has indeed helped ensure that HPP plays an integral role in serving our community. (As an example, Hermanus' response to the recent protest marches and the use of HPP's capabilities by authorities.)
Overstrand SRA Forum which includes Kleinmond and Onrus|Vermont SRA have had quarterly meetings with the Overstrand CFO to share good practices. HPP now also participate with various CID's (City/ Community Improvement Districts – like SRA's) in the wider Cape Town area. Importantly our EO now attends the City of Cape Town CID Forum quarterly meeting to keep informed on best practice.
Communicate with our members, clearly and often.
Ratepayers receive a monthly newsletter and a performance report by email, WhatsApp, social media and via our website. The interaction with representatives from the various suburbs (as mentioned above) has further deepened the level of communication.
Contribute towards the revitalisation of the Central Business District (CBD).
As mentioned above, HPP is pleased to be a member of the CBD Cluster. The appointment of Fransien Koegelenberg to our Board has sharpened our awareness of how HPP can increase our presence in the CBD. Several projects are presently being assessed to bring beautification, lighting, cleanliness, and enhanced safety in the CBD.
I would, however, like to see that the interests of CBD property owners are represented on the HPP Board and will welcome suggestions in this regard.
Prepare members to manage safety.
The monthly performance report highlights issues of safety and recommendations on how to address them. HPP will again be hosting a personal safety session in the coming months.
The one area which we have not progressed as planned, is that of understanding what HPP's role will be in a comprehensive contingency plan for our SRA. This issue will receive our priority attention in the coming month.
Motivate and plan for the continuation of the HSRA beyond June 2025.
The schedule of stages to apply for the HSRA extension has been drafted and a project will be initiated in the first quarter of 2024.
Promote change and support organisations to drive initiatives for issues (e.g. combating unemployment, vagrancy, homelessness, destruction of the natural environment) which threaten the well-being of Hermanus but fall outside our mandate.
In line with the practices of other SRA's, HPP is enhancing our social upliftment portfolio to address the issue of homelessness. This is clearly an issue which requires close co-ordinating with the Hermanus Homelessness Working Group, the OM Social Development Services, NGO's, as well as law enforcement and SAPS.
The Board has agreed that the current role of Yolanda Le Roux (employed by Fidelity-ADT) be expanded to include the management of social upliftment and urban development initiatives within the community.
Harness the rich reservoir of human resources in Hermanus to co-create and deliver on these priorities.
Hermanus is blessed with a diverse and talented cohort of ratepayers. Through various engagements, many superb suggestions have been offered. We have also received some constructive criticism, which has helped us to improve our processes and enhance the services we deliver.
We are however in need of greater participation in HPP affairs from ratepayers. If you feel that you can contribute to the work we do, please contact me.
Finally, my thanks go to the HPP Board Members (Ann Wright, Leon Rauch, Fransien Koegelenberg and Gerrie van der Westhuizen) who sacrifice their time and help steer HPP's work without any compensation. In addition, the two Overstrand Municipal nominees (Councillors Ronald Nutt and Clinton Lerm) provide wise input to our Board Meetings. HPP's Executive Officer (EO) Marcia Bown deserves praise for her tireless efforts to implement our strategic priorities.
I look forward to the next six months with hope that the improvements we have implemented will continue to yield positive results. Much work remains to be done!
Municipal Property Valuations
Several ratepayers have enquired to what extent HPP's funding will be impacted by the recently announced increase in property valuations. The impact remains uncertain in that the property valuation appeals process has not been concluded and that Council will only conclude the financial budget by the end of May.
What we do know is that the formula to determine the cents in the Rand contribution to the HSRA has been decreased from 0.000660 for 22/23 to 0.000423 for 23/24. We also know that inflation for the 23/24 financial year has been set by the council at 5%.
I will keep you informed.
That is all for now and as always, I urge you to be vigilant and aware.
Jerry van Niekerk
HPP Chair
E-Mail:  chairperson@hpp.org.za
Website: https://hpp.org.za